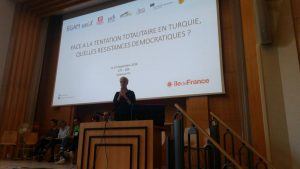 Alexis Kalk from Nor Zartonk gave a talk in an international conference in Paris
European Grassroots Antiracist Movement (EGAM) organized the international conference "In the face of totalitarian temptation in Turkey, how to resist democratically?" on 21st of September, 2016.
The conference took place in Sciences Po, Paris (Paris Institute of Political Studies) in three sessions. In the first session, UNEF Sciences Po president Solène Delusseau-Jelodin, European Grassroots Antiracist Movement (EGAM) president Benjamin Abtan, Mouvement des Jeunes socialistes (Movement of Young Socialists) Sciences Po president Julie Vincent, Jeunes Républicains (Young Republicans) Sciences Po president Camille Chevalier and SOS Racisme president Dominique Sopo gave talks on methods of resistance against totalitarianism.
The second session was moderated by Séta Papazian, President of Collectif VAN (Armenian Vigilance against Genocide Denial) and Benjamin Lucas, President of the Movement of Young Socialists. Nor Zartonk Europe spokesperson Alexis Kalk, Agos newspaper editor and journalist Pakrat Estukyan, President of the Armenian General Benevolent Union – Europe Nadia Gortzounian, Chief Editor of "Nouvelles d'Arménie" Ara Toranian, DurDe! spokesperson Levent Şensever, representatives of the Committee for the support of imprisoned students Tebessüm Yılmaz and Ari Sarı, "Academics for Peace" representative Prof. Esmeray Yoğun and Özgür Gündem editor Bayram Balcı gave their talks on the current situtation of minorities and democrats in Turkey and what their future might hold.
The final session was moderated by journalist Céline Lussato. Rozerin Çukur's parents Fahriye and Mustafa Çukur, HDP MP Tuğba Hezer, President of the Kurdish Institute of Paris Kendal Nezan, Murat Çelikkan from the Truth, Justice and Memory Centre, former French Minister of Foreign and European Affairs Bernard Kouchner, European Parliament member Guillaume Balas and European Grassroots Antiracist Movement (EGAM) president Benjamin Abtan gave talks about the current situation in the Kurdish provinces and methods of resistance against the ongoing state violence. Additionally, discussants from Turkey came together with senators and members of French Parliament in two roundtable meetings and held discussion on the present situation in Turkey.
Nor Zartonk